WHAT IS REAL GOLD?
You have fight wars for it. You have overthrown governments for it. You have sold your soul for it through some very strange political treaties, and associated alliances.
No, it's not that yellow, inert substance that's listed as AU, #79 in the atomic chart.
It's smelly, very toxic when contaminated, and very black in raw form. It's clear to honey colored in its most refined forms. In fact, it's not even listed in the atomic chart.
Yes, it's Crude Oil or Black Gold. Oil is one of the most necessary commodities in society, being second only to food. In fact, Oil is the very basis of your civilization.
You might be able to supply your home with power and hot water with solar panels, depending on where you live (hours of available sunlight). Don't live where you will need air conditioning. Running the transportation and manufacturing systems of a country is another story altogether. And it's manufacturing and logistics that create the wealth that you spend. You may sell products for a livelihood, but someone had to make those products, and they have to be shipped from the supplier to your customer.
Your transportation cannot function without oil, gas, or electric power. You need gasoline, diesel, or electric to provide power to the engines. Yes, it's true. Electric cars require some form of hydrocarbon to be consumed to provide the fuel for the turbine (generator) that creates the electrical current to charge the battery for your non fossil based transportation system.
Oil and Gas are used for much more than fuel. Every time you brush your teeth (nylon bristles), drink milk or soda from a plastic container, or play a plastic CD, you use hydrocarbons. Then there are all those extraneous things like the tires and components on your car, the housing case for your TV and cell phones, the gaskets and seals on your refrigerators, freezers, and automobiles! Let's not forget all the synthetic fibers used to make stuff like your clothes, sports equipment, etc.
Remember the hospitals that you are so dependent on. Running a hospital on solar power is impossible! Then there are all those police cars, fire trucks, ambulances, and other commercial vehicles that you expect to respond in emergencies! Don't forget the airlines. Solar powered airlines. What a concept!
Suffice it to say that Crude Oil and Natural Gas is like, you know, really cool to have. Personally, I never leave home without it!
You say that you are going to use an electric car, and save fuel. You will be using a very inefficient method of powering your vehicle. It also requires power to create the batteries that you are charging. You could not make that battery without plastic for the casing, and you must use hydrocarbons to create the plastic used for the casing!. The battery plates used energy to heat the lead. Lets not forget all the plastic that is used for insulating the wires used in electrical power transmission.
If electric cars become prevalent, you probably won't be allowed to charge the batteries whenever you want. " And charging will have to be strictly controlled. Let anyone charge their electric vehicle when they want to -- like just when they get home at night -- and you'll need more power stations to provide the juice. Electric vehicles suddenly don't seem so cheap, or so emissions- friendly, when you've got to build and fire up huge oil, gas or coal fired power stations to keep them going. "
There is no free lunch in nature!
Crude Oil based lubricants are mandatory for the engine, transmission, and other related components. Stop changing the oils, greases, and other mandatory lubricants demanded by your transportation, and see what happens next.
OK. You are saving fuel by lightning the vehicle using plastic parts. You are still back to Crude Oil or Natural gas to create the plastics. Remember that it also takes power to create the plastics! More Crude Oil!
But wait! You will use aluminum on the vehicle. Problem! Aluminum production uses enormous amounts of electricity. And aluminum is not repairable for the most part. Bummer!
Try to run your big trucks, railroad locomotives, and cargo ships on battery power!
I can't wait until someone tries to power a steel mill with windmills.
Better yet, let the Southern California pinheads blow on pinwheels to create power. Like what a really cool idea, and like it could help harmonize your prana with your karma when you are doing, like you know, yoga, and stuff!
Time to get real and deal with it!
Black Gold (Crude Oil) is mandatory. This is real wealth.
WHAT ARE THE FUNDAMENTALS OF BLACK GOLD (CRUDE OIL)!
For starters, the International Energy Agency is forecasting crude oil usage at 83.48 million barrels /day. If one applies the price of $60USD/barrel, we arrive at a daily cost globally of some $5 billion USD/ per day/. At $70USD/barrel, we arrive at some $5.8 billion USD/day. This results in an average yearly bill of some $2 trillion USD. This is what I call a very big number.
In the US, 21.93 million barrels/day of oil was used in 2005. That's some $1.3 billion USD/day at $60USD/barrel, or $480 billion USD/year.
320.5 million gallons/day, or 3700 gals/second were used in the US in 2005.
The Crude Oil, Gasoline, and Natural Gas markets have got to be the most analyzed markets in the world, with a wealth of information available daily/weekly/monthly. You want data, you've got it! Even the UN provides information on the world's oil supplies!
There is no mystery in the energy markets. Here we see the laws of supply and demand working out their marvelous patterns as the economic inputs change. Change the input, and watch the price change immediately. Cause-Effect, or poetry in motion if you prefer!
Crude Oil and Natural Gas companies are drilling, storage, and transportation operations. Even the exploration to locate the products is a drilling operation!
The American Association of Petroleum Geologists
maintains the most incredible web site for research on the subject of Crude Oil and Natural Gas. The data below is from their site
Exploration Statistics
You can find history going back to the 1940's with these statistics!
CRUDE OIL'S PRICE HISTORY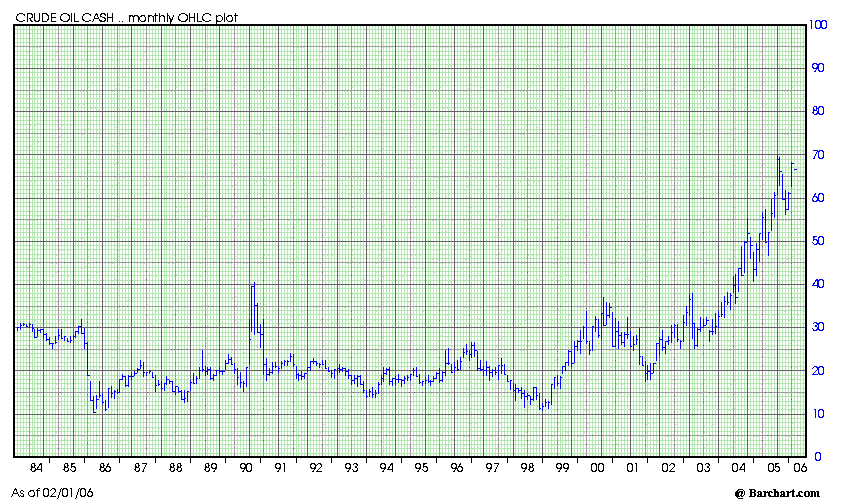 This chart shows that Crude Oil is into new price territory, having overrun it's all- time high of $40.
CONCLUSION
This chart clearly show that Crude Oil has entered a new price cycle, and the implications are for permanent higher energy prices. I say permanent with regard to the next 10-20 years. After that, technology will have rendered these forecasts obsolete.
Obviously these higher prices will force the development of nuclear power. We will see many technological breakthroughs as a result of the resources that will now be committed to finding clean, reliable sources of reasonably priced energy.
Energy is the life blood of an advanced culture, and there are few people who are willing to go back to the stone ages! Our bodies are nothing more than energy transformers, turning food into energy so we can maintain our physical existence. We have now evolved to the point when we transform the materials of nature into energy to do our work, and accomplish our dreams. We must now go forward, and bid the concepts of the pre-technological world adieu!
"Hitherto the poets and philosophers of science have used the vast expanse of the universe as a pretext for reflections on the unimportance of man, forgetting that man with "that enchanted loom, the brain", is precisely what transforms this electrical pulsation into light and color, sound and shape, large and small, hard and heavy, long and short,." Alan Watts, The Book,1966.
Notice that Alan Watts said the philosophers of science (Ph.D.), not the scientists themselves.
Alan Watt's reference to electrical pulsation's is based on Michael Faraday's theories, and James Maxwell's proofs.." Faraday offered "Thoughts on Ray Vibrations." Specifically referring to point atoms and their infinite fields of force, he suggested that the lines of electric and magnetic force associated with these atoms might, in fact, serve as the medium by which light waves were propagated. Many years later, Maxwell was to build his electromagnetic field theory upon this speculation"
The journey has just begun in developing the energy needed to go to the stars. There we will find even more valuable commodities to trade! The Ferengis are already trading Dilithium Crystals at the Star Bar exchange! And let's not forget about all the Spice trading going on at the Arrakis

Spice Exchange.

We could be doing some serious intergalactic hedging here so you can afford a permanent table at Milliways, the Restaurant at the End of the Universe. And they do accept American Express cards. As the Prisoner says, be seeing you!
Wayne N. Krautkramer onlypill@cox.net http://onlypill.tripod.com/theblackgoldwatcher